Just got my paycheck for the month of May. Taking into account that I overspend last month (you can read about it here) I will adjust my budget for the upcoming month.
The steps I take to setup my budget
1. I list my expenses
I put my gym and movie membership on hold for as long as I cannot make use of them. Tuesday (21st of April) the Netherlands extended the closing of most facilities. But I will budget for the memberships to be sure.

Last month I budgeted the wrong amount for my health insurance. I will make it up to date in this month's budget.

The rest of my budget stayed the same.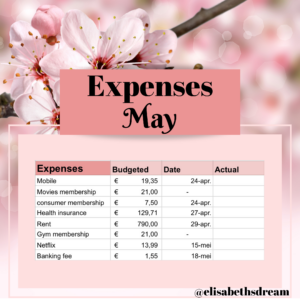 2. Then I list my sinking funds & jars
In May I will make use of the sinking funds, Birthdays and Mother's day.

Birthday fund
My aunt's birthday is in May and she lives in a foreign country. So I will send a package for her. I budgeted €50,- for her but I will check with my family if they are also thinking of sending a gift.

Mother's day/Father's day fund
10th of May is Mothers day. Even though we're all at home buying a gift for my mother and sister-in-law is a must. Trying not to forget these little things in these times is very important to me.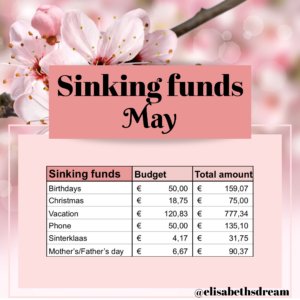 Groceries jar
I put €100,- more in the groceries jar. Last month I compensated with the eating out jar but now that I'm home I eat and drink more. So that means more groceries are needed.

Play jar
The play jar won't be filled this month because I went over my budget last month buying furniture for my room and work space. I actually used up most of the next month's budget too.

Eating out & Personal Care jar
The rest of my jars will be filled as before.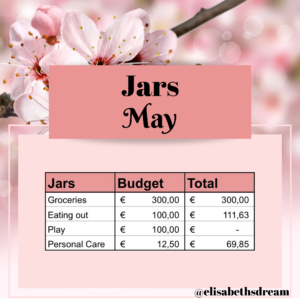 After receiving my paycheck I send the total amount of my sinking funds and jars towards my Moneyou GO account and seperated it over the categories.
3. Check my debt
I have put my snowball debtpayment on hold while I fill my emergency fund. The minimal payment of €59,71 will be paid automatically in May. The new balance should be around €5.468,07.
4. Add to my emergency fund
Instead of paying €900,- towards my student loan I'm adding it to my emergency fund. My current balance has amounted to €2.800,22.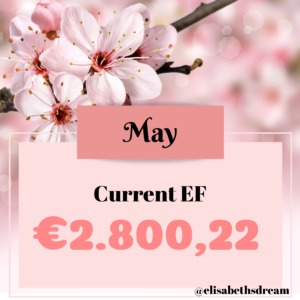 Have you setup your budget for May?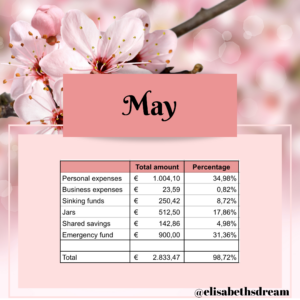 Read my previous post about reviewing my budget of April here.