At the end of March I started working at home because of the Corona crisis. I live in the city Rotterdam, and normally commute about 3 to 4 days to the province Noord-Brabant. In this province is where the outbreak started, people from other parts where not allowed to travel from and to this location. This means that I was working at home, before the country went on an intelligent lockdown.
How is working at home?
At first I wasn't sure if the connection would be sufficient to work from home everyday. Even sometimes at work there were problems if too many people were using a shared site. But the first week there were no problems. I had already worked the Monday home as usual, so I worked till Thursday. I did realize that not having a home office was going to be a problem.

The second week was the toughest. Everyone was at home and we all were worried about how long this would last. Personally I did not feel motivated and I had no focus. At that moment I was preparing for our quarterly planning session and had a lot of meetings already planned with colleagues. This meant I had enough work to get me through.

I have worked at home for more than a month. I ordered a bigger desk, an extra screen, a wireless keyboard and mouse and a desk chair. My work reimbursed me for most of it. Having a place to work makes it easier to divide my day and focus on work. I mostly can divide my day how ever I want. But I miss my colleagues and not having to sit in front of a screen the whole day.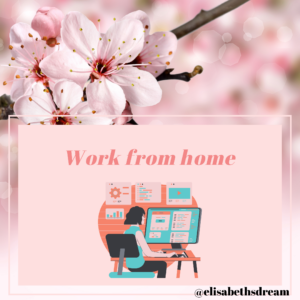 What more has changed since the intelligent lockdown?
Meeting up with friends has fully stopped for me. Literally had to cancel plans because traveling was being discouraged and we didn't want to take the risk. We did facetime to just talk to eachother.

Normally at least once a month I would go to the movies with a group of friends. This is also put on hold. Recently one had a birthday and we all sent birthday wishes through a recording, but it's obviously not the same.
How have my finances changed?
I'm lucky to still be able to work at home during this crisis. My employer did communicate that the bonus everyone normally gets after a profitable year is being frozen. This is something I expected because they also aren't paying dividends to the shareholders. So nothing out of the ordinary for me.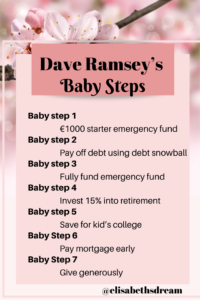 My goals was to be debt free this year before starting to build my emergency fund from €1000,- to €6000,- (following Dave Ramsey's Baby Steps). But because of the crisis I want to be prepared for an emergency. Therefore I put my extra debt payments of €900,- per month on hold. Instead I'm sending it to have a fully funded emergency fund by this August. If nothing changes I will be debt free by January 2021.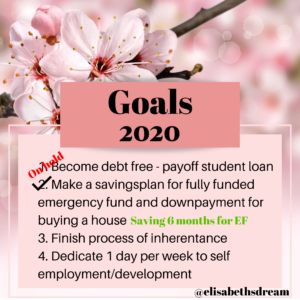 What this crisis has thought me so far?
Be flexible
Things change and you don't control everything. If the plan you made for achieving a goal doesn't work, then just go back to the drawing board.

Mind your own business
Whatever other people are doing is none of your business. Now that they're home are they:
– cleaning their house
– learning a new skill / language
– reading a book every day
– starting a business
Be happy for them. But know you don't have to be them.

Focus on your goals
You're flexible. You're minding your own business. Now, have a goal. If there is something you want to reach, don't let this or anything else discourage you. You can do it
How has the pandemic effected your life?
Comment below.