I received my paycheck for June. The intelligent lockdown in the Netherlands is becoming less strict. I expect that my movie membership payment will start back up. I also received holiday pay this month.
In the Netherlands every month 8% of your gross monthly income is set aside by your employer. In May or June depending on your employer you get the sum paid out. This is called "vakantiegeld". I translated it to holiday pay.
The steps I take to setup my budget
1. I list my expenses
I listed all my monthly expenses as normal.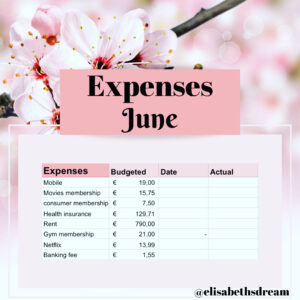 mobile subscription is lower than normal – €19,-
movies membership was on hold. Now it's lower than normal €15,75
gym membership is on hold, but to be sure I will still budget for it
The rest of my budget stayed the same.
2. Then I list my sinking funds & jars
The sinking funds are filled as planned. In June I will make use of the sinking funds, Birthdays.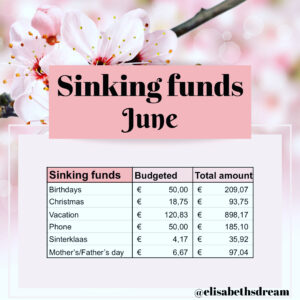 Birthdays fund
Last month I thought to buy a birthday present for my aunt. I still haven't bought it. So I want to use the €50,- I budgeted for her.
The jars for June are also filled. The budgeted amount hasn't changed and these will be used throughout the month.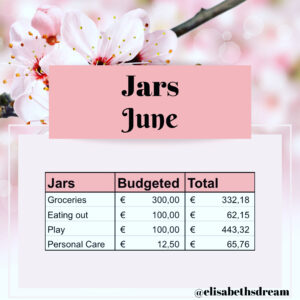 3. Check my debt
My snowball debtpayment is on hold until my emergency fund is fully funded for six months. The minimal payment of €59,71 will be paid automatically in June. The new balance will be around €5.408,36.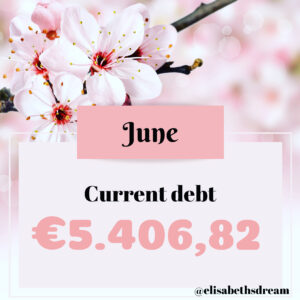 4. Add to my emergency fund
I'm using my snowball of €900,- to add to my emergency fund. From my holiday pay I used €2299,78 to fully fund my emergency fund for 6 months.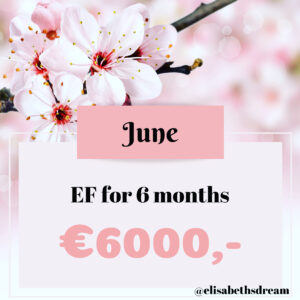 I feel very accomplished to have reached my goal before my initial planning.
Have you setup your budget for June?
Read my previous post about setting my budget for May here.