The second half of the year just started. It's been a crazy six months. Being in lockdown has limited my spending, but I still miss the going out for drinks, watching movie with friends and going on trips.
It has helped me keep on budget and seeing progress in my debt free journey.
The steps I take to setup my budget
1. I list my expenses
Every month I start with listing my expenses by looking at the month before.
In July there are two changes in my budget:
Movies membership is back to its orginal amount. Since the lockdown the cinema was closed so I didn't need to pay. In June it has opened (not to full capacity) so I need to start paying again.
Rent has been lowered with €0,02. It is a minimal change, but I had to change my budgeted amount for paying the house.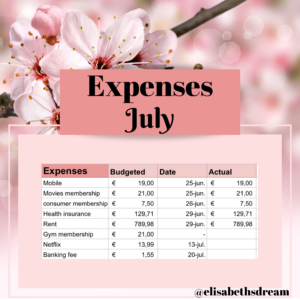 2. Then I list my sinking funds & jars
Birthdays
With the lockdown I have been using my sinking funds less than I planned for. Normally I would go to birthdays or visit people at their home. But because I'm not going out I haven't made use of my sinking funds.
Christmas/Sinterklaas
This sinking funds is to buy gifts for Christmas/Sinterklaas. I may use it before December if I find a good deal.
Vacation
Every year I go back to Curacao where I was born for a three week vacation. I don't expect to go back this year because of the pandemic. Maybe I will go a weekend away with friends in the Netherlands.
Phone
At the beginning of this year I bought a new phone. About every two/three years I upgrade my phone so I'm putting money aside to prepare for this.
Mother's/Father's day
I haven't made use of this sinking funds this year.
I have nothing planned for July.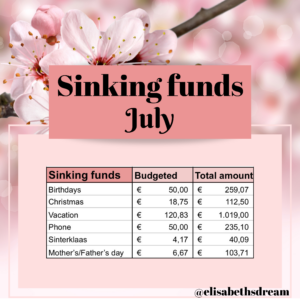 My jars for July are filled.
My groceries and eating out jars are used every month in full. The play and personal care jars are not used consistently.
3. Check my debt
Every month I pay the minimal amount towards my debt €59,71. In July I again started paying extra towards my student loan €900,-. My current balance is €4.446,34.
I expect to pay off my debt in november 2020.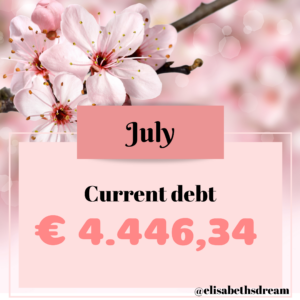 4. Check my emergency fund
My emergency fund is filled and I haven't made use of it. This makes me prepared for unplanned but urgent expenses.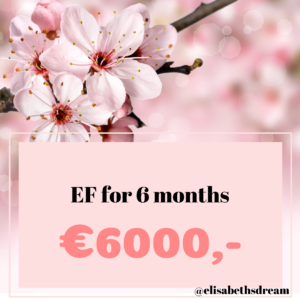 Have you setup your budget for July?
Read my previous post about how my debt free journey is going here.