I started the babysteps by Dave Ramsey in 2019. My goal was to be able live stressfree, paying the bills and enjoy life. Following the babysteps I wanted to become financially secure enough to buy a house.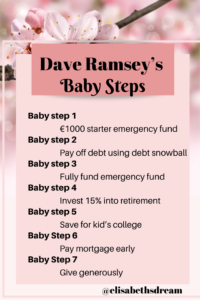 I watched some youtube video's of people who have followed the steps. Some were positive and others talked about how they changed some parts. To get more in-dept knowledge I read his book (see my review of the book here) and got more of an idea how I was going to execute the steps.
My progress
At the beginning of 2019 I accepted a new contract with a better salary. I started Babystep 0; budgeting and learning more about my finances.
After receiving my holiday pay I transfered €1000,- to my savings account as my emergency fund and completing Babystep 1.
From May 2019 I started my debt free journey; Babystep 2. There was three debt payments in total, student loan, monthly installments for a course I had followed and taxes.

In July I finished paying for the course I had followed as planned.

In August I thought I had paid of all my taxes. After receiving a reminder I called to confirm and realized there was second bill. Dejected I paid it in September and had to get myself motivated again to budget further.

My student loan is still on going. In July 2019 I started paying a small amount extra €132,86. By budgeting I kept realizing I could pay more and raised incremently it to €900,- by January 2020.
With the start of the new year I made a plan to pay of my debt by the end of the year. Then the Corona virus started spreading. Initially I didn't think it would have the influence on the world that I know now. By the end of February it became a real threat. When I was requested to start working at home (before the intelligent lockdown) I was taking it very serieus. It was still unclear if it would have impact on my way of working and if my job was at risk. But I realized I needed to be prepared if need be. So I put my extra debt payments on hold and choose to build my emergency fund further.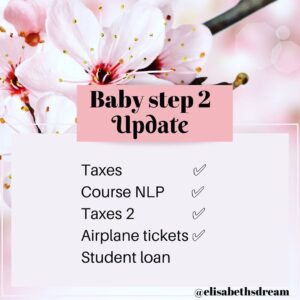 In March I started on Babystep 3(a) building a fully funded emergency fund for six months. I used the €900,- I had been using for paying of my student loan in March and April. When I received my holiday pay in May I used it to fund my emergency fund fully.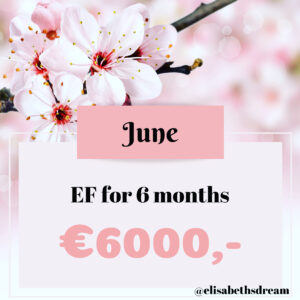 What's next…?
In June I will restart my debt free journey and pay extra towards my student loan. The plan is to finish Babystep 2 in November 2020. And then start with Babystep 3b: downpayment for buying a house.
How is your debt free journey going?
Read my previous post about my debt free journey here.